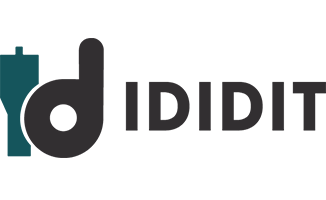 (517) 424-0577
https://www.ididitinc.com
ididit News
Our T Shirt Contest is back again by popular demand!
Back for a second year is the T-shirt design contest involving students from the graphic imaging classes at LISD Tech Center in Adrian, Michigan. Last year's grand prize winner was Lexi Davis, who received a $1,500 scholarship and got to see her rearview mirror & fuzzy dice design used as the official logo of the event and printed on T-shirts.
Scroll through the 2019 Designs and Vote for your Favorite Below!
THIS YEAR'S DESIGNS: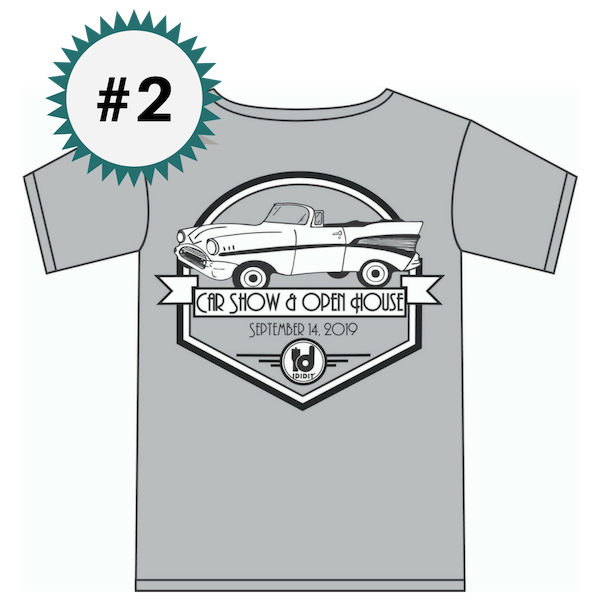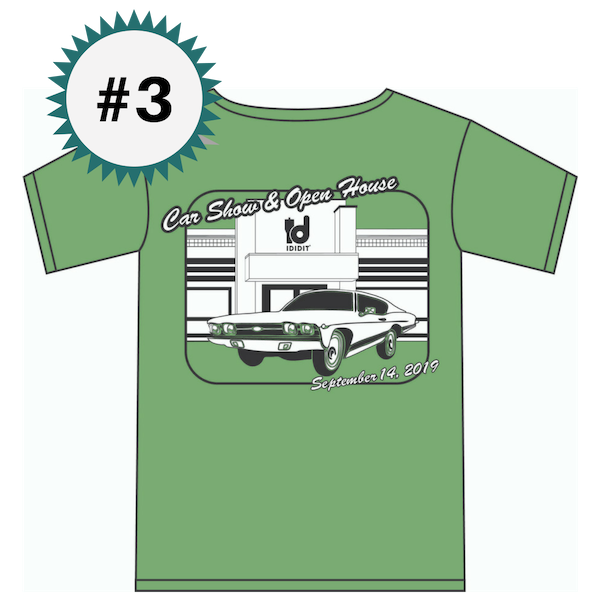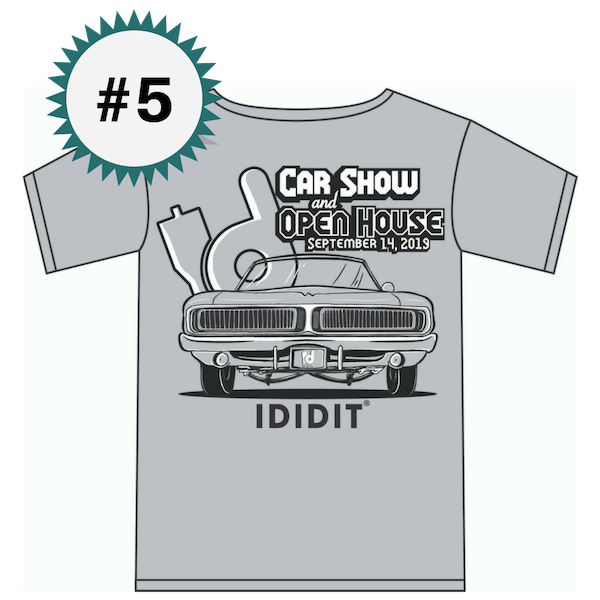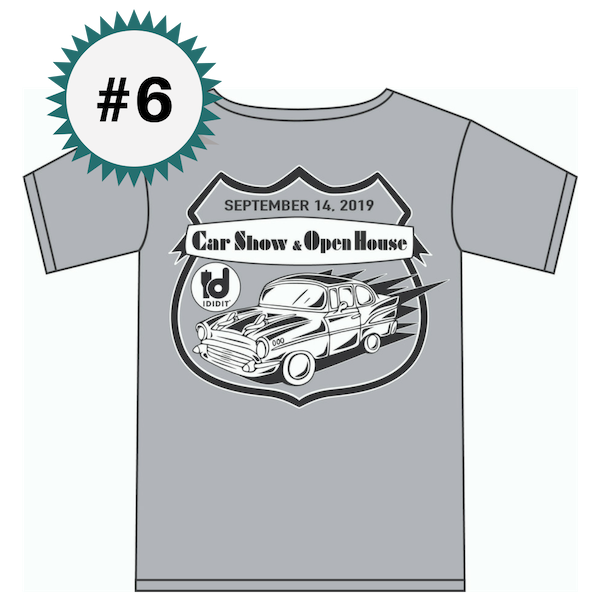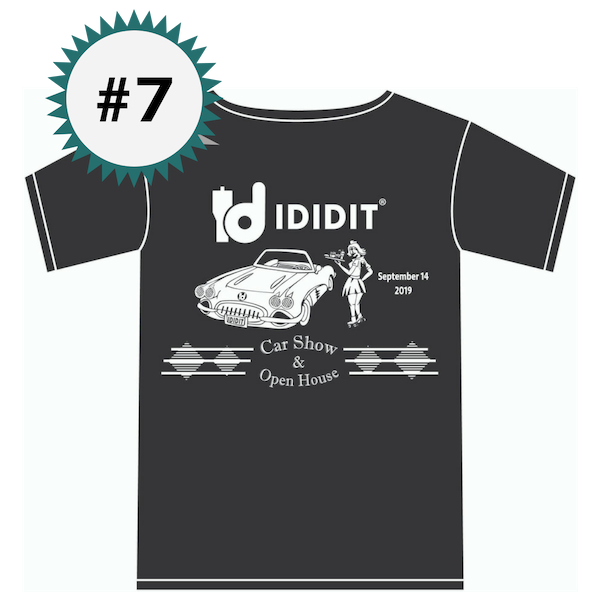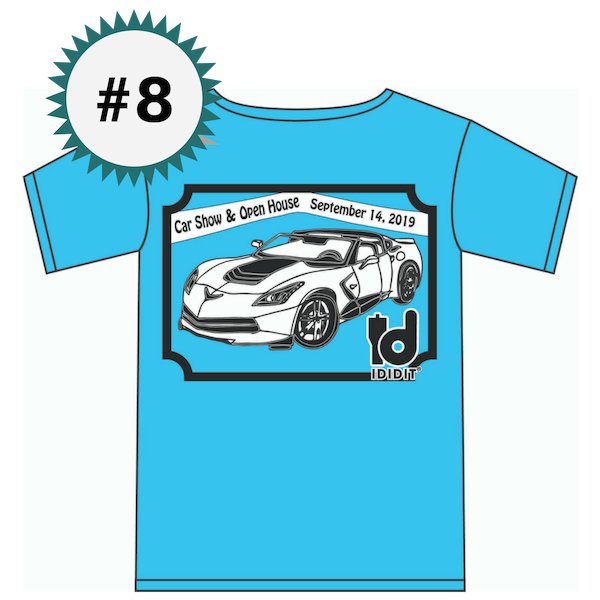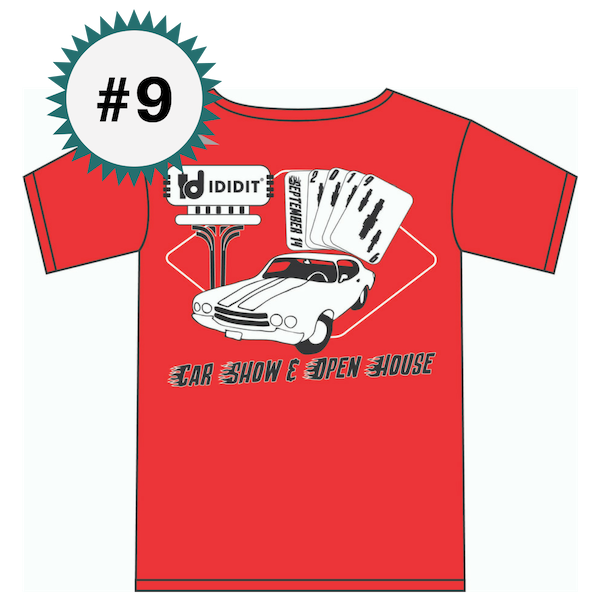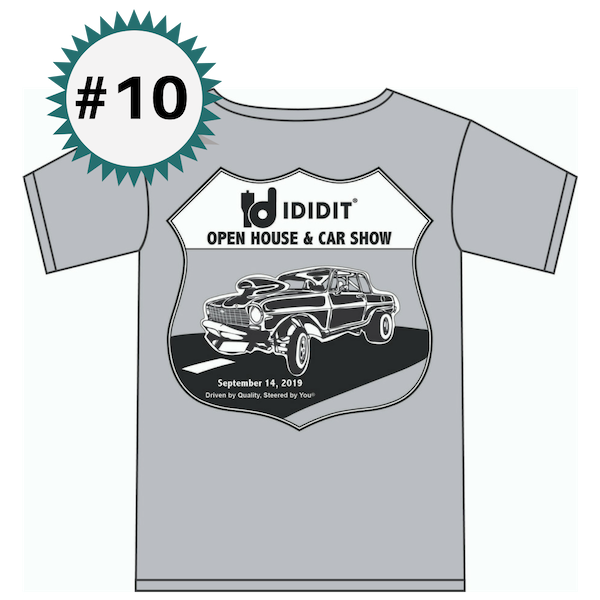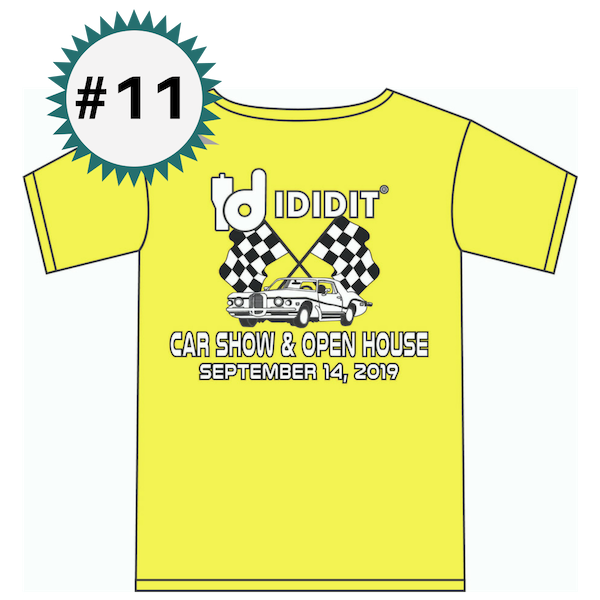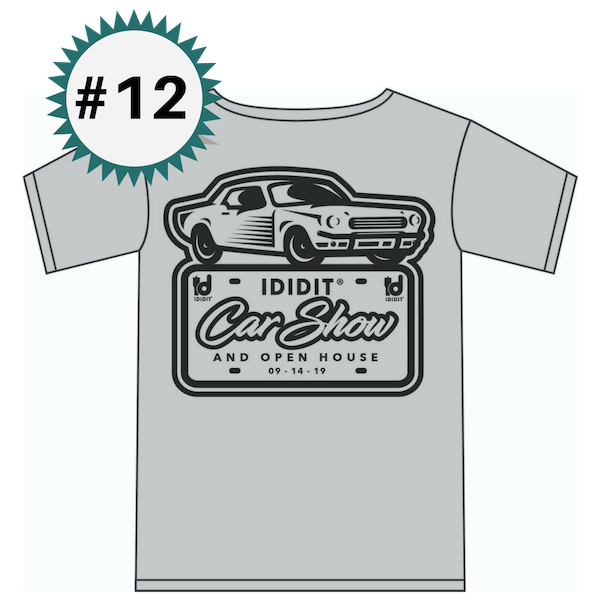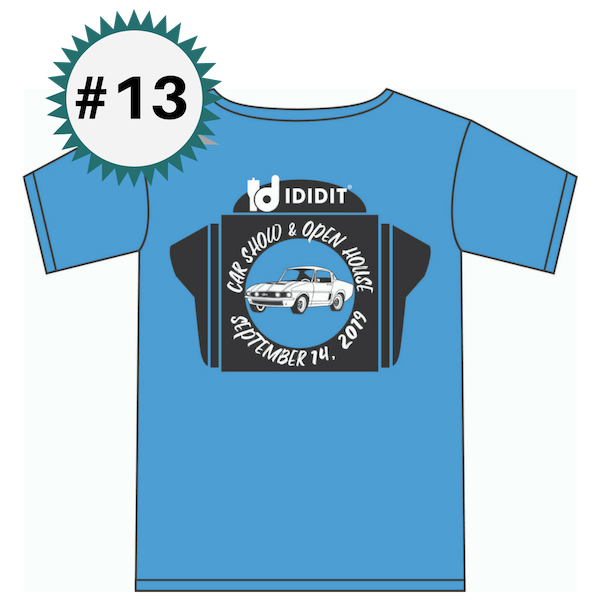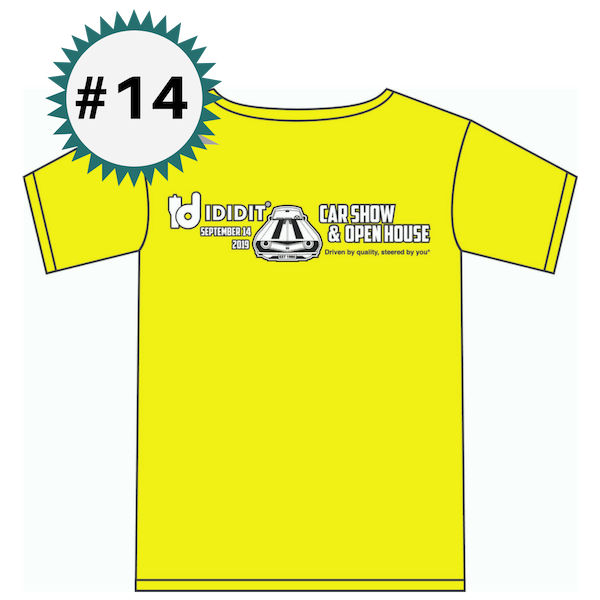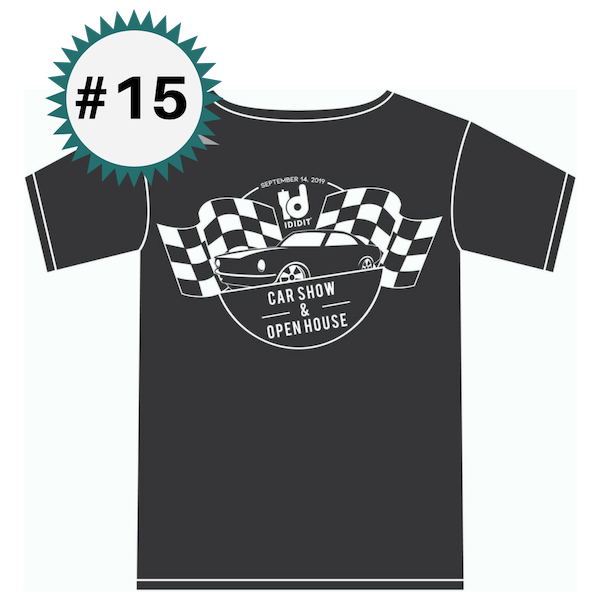 ---
These 3 steering solutions will sweeten your swerve
The right steering mods can add excitement and convenience to your drive and help you solve age-old headaches.
When it comes to restoration and modification, builders know how important tires, engines and exhaust systems are to achieve the look, feel and performance they're after. One thing they often overlook, however, is their steering setup—which is a shame, because a myriad of aftermarket options to upgrade the look, safety and convenience of OE steering are out there. What's more, recent advances in steering technology give builders more ways than ever to customize and improve their rides.
If you've been ignoring this important aspect of your build, don't fret. We've got you covered. These cutting-edge innovations can inject a new level of excitement into your drive, add convenience, and even solve age-old headaches you thought you were "just going to have to deal with."
Retrofit steering columns can help you lighten up.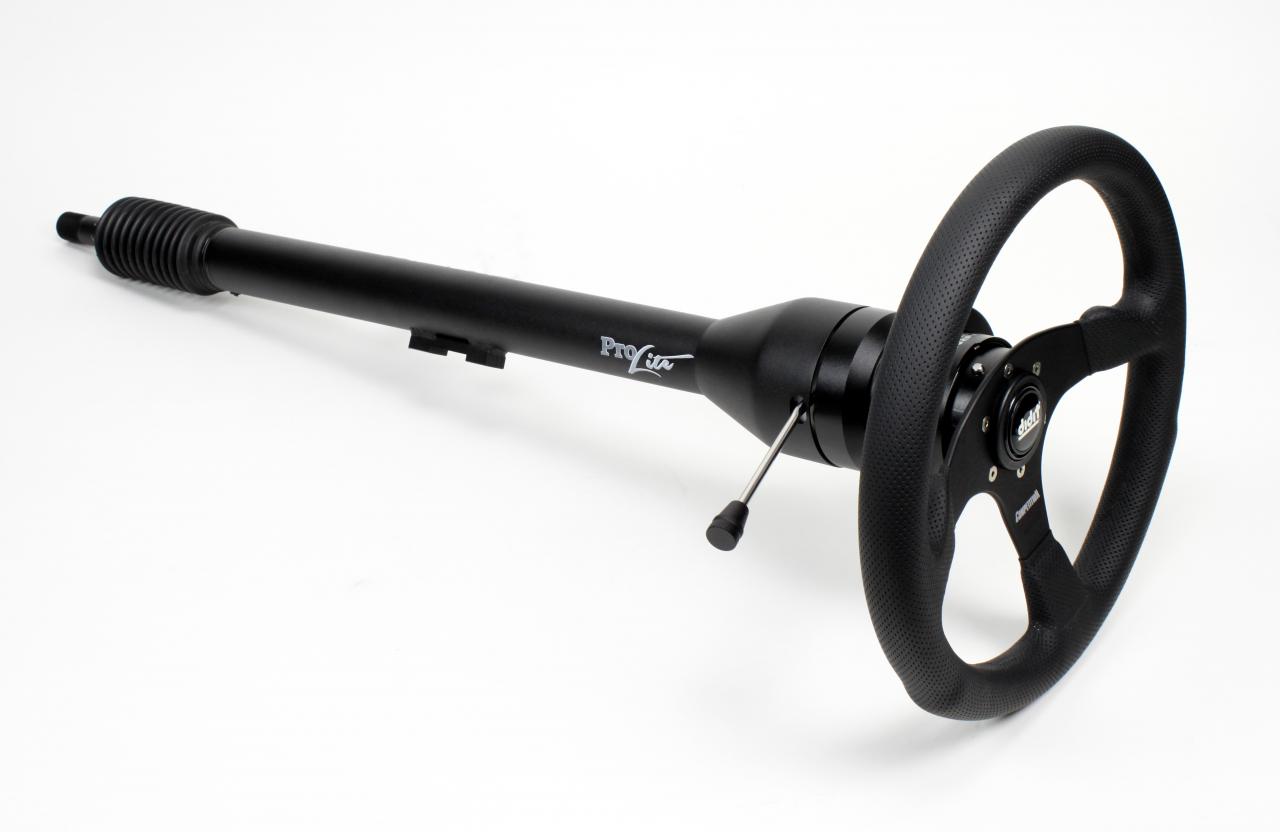 Builders have been installing aftermarket retrofit columns for decades – and generally found that the aftermarket column would shave about three pounds off the weight of the vehicle.
But with the new Pro-Lite, IDIDIT has found a way to cut the weight of the column IN HALF depending on the OE column being replaced. The average weight savings is between 7-10 pounds – making it a shockingly easy way to shave some weight off while upgrading a vital piece of equipment, the steering column.
At just over six pounds, the Pro-Lite has all the modern safety features you need to keep your ride street-legal (turn signals, four-way flashers, horn), and it's built to collapse in case of an accident. In other words, if something goes wrong, you won't be eating your wheel.
Builders who have installed the Pro-Lite all report a similar "Ah Ha" moment when they pick up the column and feel the big difference in weight over OE and even aftermarket columns they typically install.
For reference, it's the weight difference between a gallon of paint and a Chihuahua.
The Pro-Lite is the first high-quality, lightweight, retrofit performance column built to meet the needs of the ever-growing street-to-strip world. The same research and development team that has made IDIDIT a mainstay in aftermarket steering for more than 30 years has successfully developed a retrofit column that didn't sacrifice quality to save weight – and with more and more applications being added to the Pro-Lite line up all the time, we are confident the Pro-Lite series is one of the biggest innovations we have seen in performance steering.
Quick release steering hubs can help you loosen up.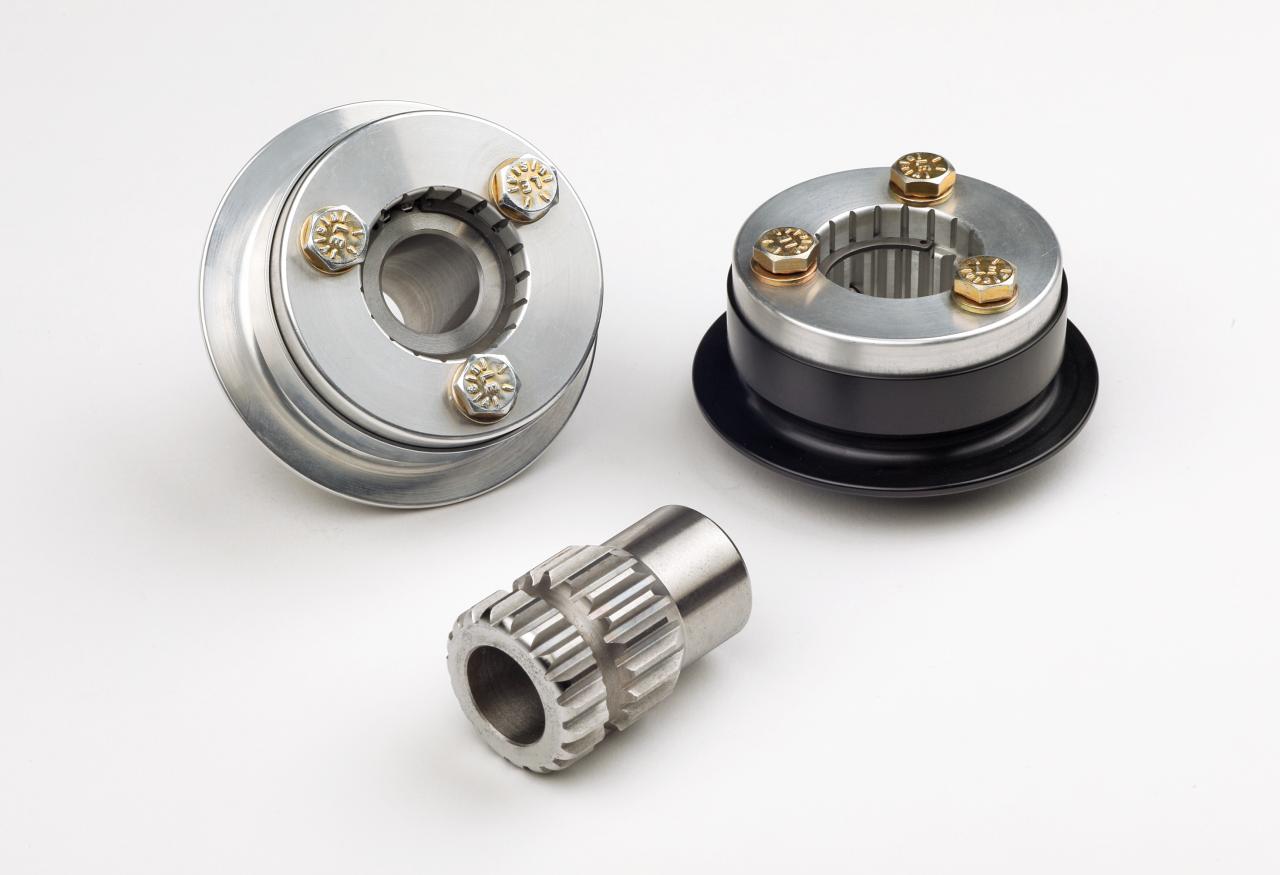 Let's face it: Many modern hotrods and racecars don't have much room behind the wheel, which means getting in and out of the cockpit can present a challenge that is not only inconvenient, it can be downright dangerous.
If your car is too cramped to climb into and out of easily, removing the steering wheel by installing Quick Release Steering Hub can give you extra inches of clearance when and where it counts.
Quick-Release Steering Hubs are common in racing applications, but the universality of these products make them a great fit for street performance, hot rods, and even off-road applications.
The bottom line: You may not NEED your steering wheel to easily disconnect and reconnect, but you know there are situations where it would definitely be nice.
With the acquisition of QRSH manufacturer Schroeder Steering last year, IDIDIT found a natural fit (pun intended) by adding Quick Release Steering Hubs to their line-up of aftermarket steering accessories – especially its new Pro-Lite performance columns. In fact, when a Pro-Lite column and 5-bolt QRSH was installed on a '69 Camaro recently, it STILL shaved seven pounds off the vehicle's weight – even after adding the hardware of the QRSH. When you can add safety and convenience equipment while decreasing weight, that's a win-win, right?
The right clearance solutions can help you level up your leg room.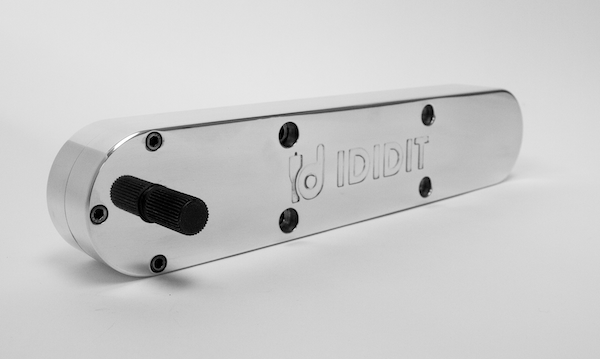 For decades, no single issue has frustrated custom car designers, builders and owners like steering clearance. The challenge doesn't just impact steering, but also limits your engine choice and your foot and leg room. Failing to find a good solution can ultimately lead to an awkward and uncomfortable car. (Looking at you, Street Rodders).
The SideStep, released by IDIDIT earlier this year, solves this age-old problem and can make your life a whole lot easier.
The SideStep provides almost unlimited options for steering-shaft clearance, allowing you to install high-performance headers and install any engine you choose. The extra clearance lets you safely reposition the steering column to increase legroom and improve comfort. Its high-quality construction makes it a durable and low-maintenance addition to your hotrod or street rod – and gives builders a whole new way to approach their modified steering set ups.
Custom builders don't have to be limited by unadaptable steering locations and awkward U-joints any longer, unleashing a whole new world of opportunities to see a truly blank slate with each new build. What a time to be alive.
Steering is an important, yet often overlooked, aspect of hotrod builds and restorations. Make sure to put it on your list as you make progress on your projec -—and keep these solutions in mind while you're at it.
---
IDIDIT Steers Modern Technology Into 1968 Chevy Nova
The new 1968 Chevy Nova Tilt Floor Shift Steering Column from IDIDIT is a blast from the past, built with the best of modern technology.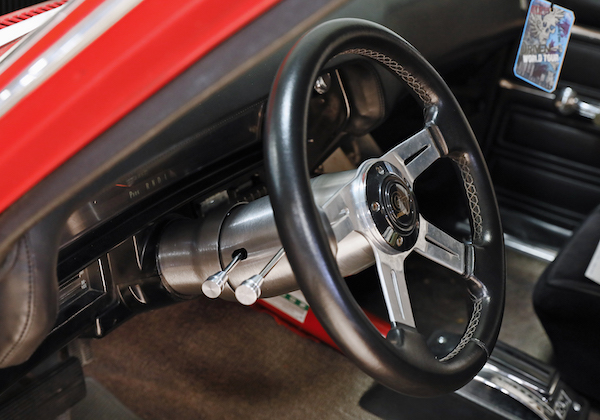 Tecumseh, Michigan: The Chevrolet Nova hit the streets in 1968 after a monumental redesign that featured a longer wheelbase, shorter chassis, and more shoulder and leg room inside. Fifty years later, IDIDIT, LLC offers an additional creature comfort for the legendary model with its new Tilt Floor Shift Steering Column.
The Tilt Floor Shift Steering Column for the '68 Nova is a cleaner, sleeker version of the factory column, like many products in IDIDIT's expansive product catalog. For additional safety, this column also is fully collapsible, in case of an impact or accident.
The column works with the Nova's original manual gearbox, aftermarket power box, as well as new rack and pinion systems. All '68 Nova IDIDIT steering columns come standard with a floor mount, self-canceling turn signals, four-way flashers, wiring adapter for stock harness, and a 3⁄4-inch 36 spline lower shaft. The product is custom designed to seamlessly fit into the vehicle dash without gaps and holes.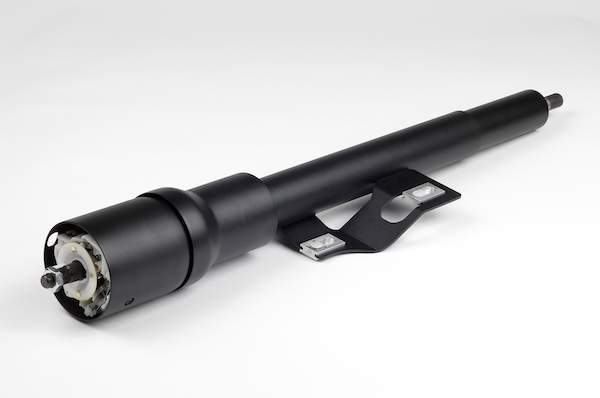 The'68 Chevy Nova column by IDIDIT is available for purchase in three finishes, including Paintable Steel (P/N 1300680010), Chrome (P/N 1300680020), and Black Powder Coat (P/N 1300680051).
Installers will need to use a rag joint to connect to a stock box (P/N 3000053434).
For more information about the Tilt Floor Shift Steering Column line or any IDIDIT product, call the company at 517-424-0577.
---
IDIDIT Finds Solution for Age-Old Steering Problem

Sidestep annoying and awkward u-joint angles with IDIDIT's versatile new product.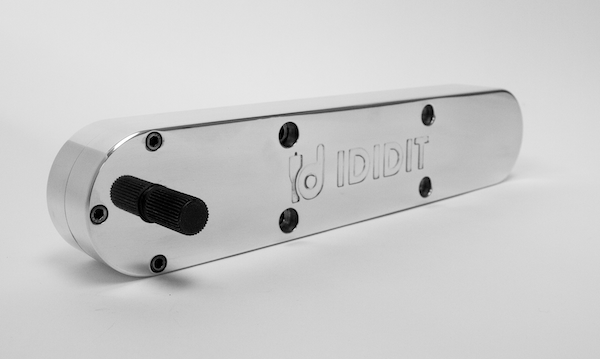 Tecumseh, Michigan: The research & development team at IDIDIT, LLC has formulated a modern solution for an age-old steering problem.
The awkward angles and tight spacing around the steering shaft and on both sides of the firewall no longer has to be a nuisance. IDIDIT's Sidestep is now available to relocate the position of the shaft. The extra space created can be repurposed under the hood for added horsepower, or in the cab for more leg room.
The IDIDIT Sidestep is an all-billet piece constructed out of aircraft grade aluminum and is ideal for custom hot rods, race cars and restoration jobs. The Sidestep measures 3-inches wide and 2-inches deep (not including splines), with 3⁄4-36 spline output shafts and the choice between 8-, 10-, 12, or 16-inch lengths, and is available in raw machined or polished finishes.
The IDIDIT Sidestep also features a double roller chain and withstands 10X OEM failure load for safety, based on IDIDIT's in-house engineering testing. The IDIDIT Sidestep is now available in raw machined or polished finish.
For further information, call IDIDIT at 517-424-0577 or email sales@ididit.com.
---
IDIDIT, LLC Purchases Schroeder Steering

Tecumseh, Michigan: IDIDIT, LLC, a company celebrating more than 30 years manufacturing aftermarket steering solutions, has purchased Schroeder Steering as it positions itself for another record-breaking sales year in 2019.
Schroeder Steering is a California-based manufacturer of quick release steering hubs and steering boxes. The early 2018 acquisition included all inventory, machines, castings, molds, prints, specifications, and original tooling owned by Schroeder – along with 75 years of manufacturing knowledge to be implemented at IDIDIT, LLC's Tecumseh, Michigan facility. IDIDIT was also given immediate full and exclusive authorization to continue the production of the quick release and steering box products by Gary Schroeder, founder of Schroeder Steering.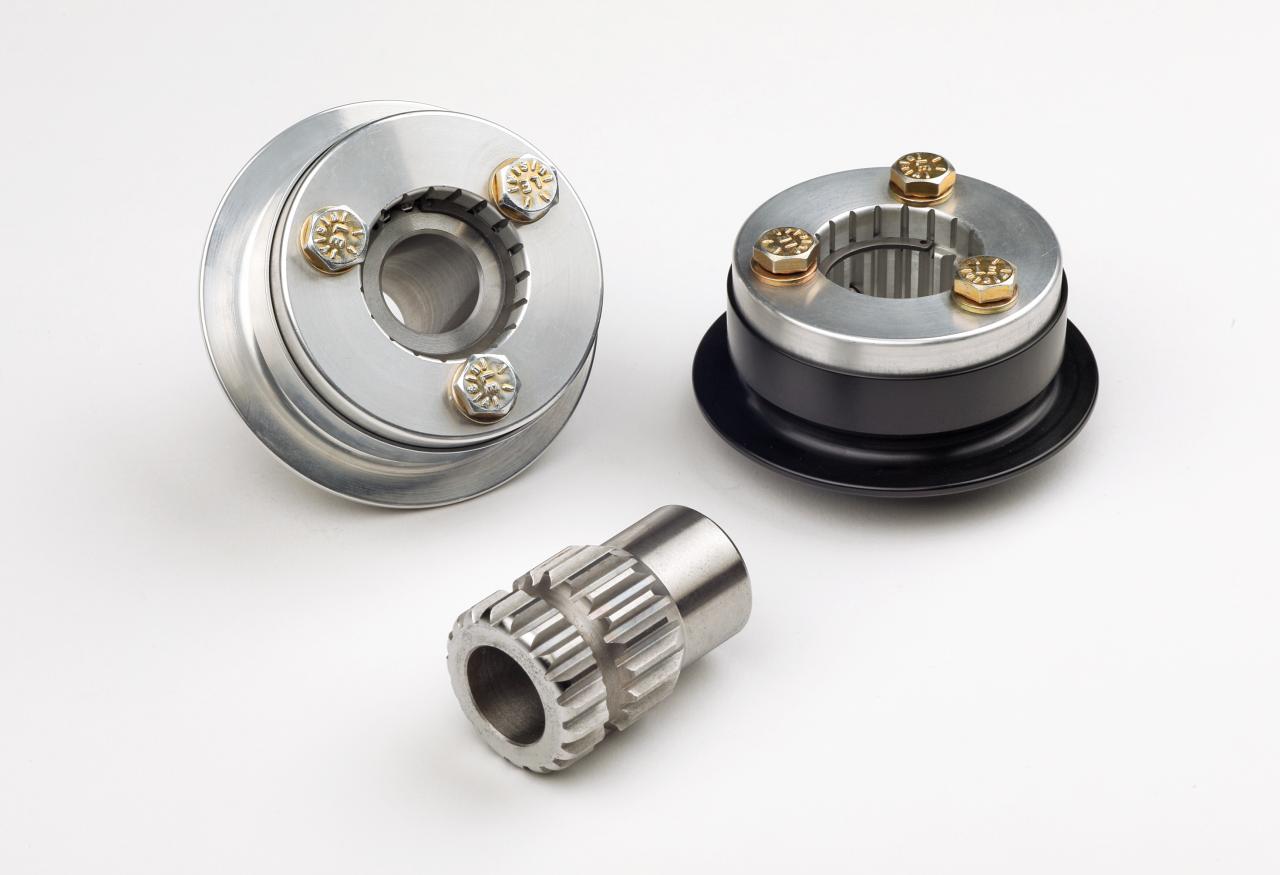 New SFI-certified IDIDIT Performance Quick Release Steering Hubs are already in production and available through IDIDIT. The company is now beginning production of the new IDIDIT Performance Steering Box – based on the proven engineering of Schroeder's original design. They are expected to be available for purchase in Q2 of 2019. Customers who have already purchased the Schroeder Steering box can contact IDIDIT for technical questions and assistance.
"Since we have the inventory and tooling in-house, we are able to tear down, inspect and repair any original Schroeder steering box." Trever Cornwell of IDIDIT said.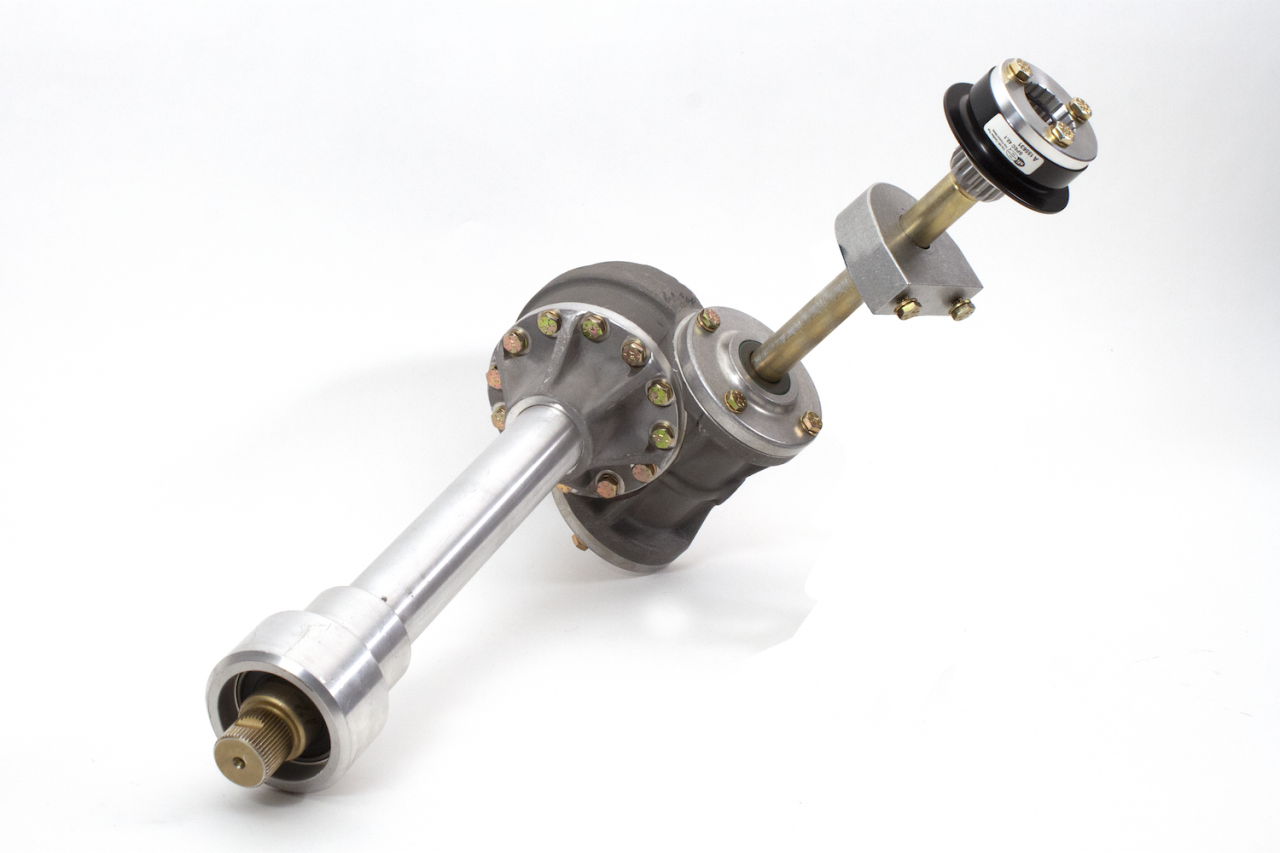 If a customer owns a Schroeder steering box that has been involved in a collision, or is suspected of having damage, they can send the steering box to IDIDIT for inspection. For an inspection fee of $100, the IDIDIT team will tear it down and check for damage. If a repair is needed an estimate will be provided. If the customer authorizes the repair, the inspection fee will be applied to those repair costs. If no repairs are necessary, the fee will cover costs of reassembly and shipping back to the customer.
For more information on the IDIDIT Performance Quick Release Steering Hubs, IDIDIT Performance Steering Boxes, or the repair of the Schroeder Steering Box, please contact the IDIDIT Sales Staff at 517-424-0577, or to view information on all IDIDIT products to meet your steering needs visit the IDIDIT website at www.ididit.com.
---