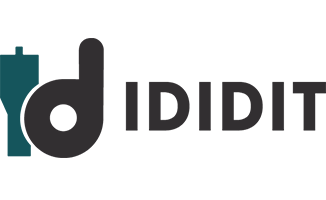 (517) 424-0577
https://www.ididitinc.com
ididit News
It's Car Show Time!
Downtown Tecumseh is the place to be again this summer to see the area's coolest classic vehicles. ididit returns as a sponsor of the 2018 Tecumseh Classic Car & Bike Show Series.
Held the third Thursday of each month from May to September, the event features hot rods, classics and customs on display at the Old National Bank, 205 E. Chicago Blvd., and adjacent downtown parking lot.
"We are proud to once again support our hometown's Classic Car & Bike Show Series," said Stacey Discher of ididit. "We have been sponsoring this show since its inception, and we love it! It's a great way to bring the community together while showing off some sweet rides."
Special recognition plaques will be awarded each month, and Michigan International Speedway will have its pace car to the May, June and July events. Registration is free, but organizers request participants bring canned goods and non-perishable food items to be distributed by local service clubs.
Show dates are May 17, June 21, July 19, Aug. 16 and Sept. 20. Check-in is 5:30-7 p.m. at Gregory's Barber Shop, 201 E. Chicago Blvd., and display times are 6-8 p.m. Sponsors include: ididit, Old National Bank, Avery Oil and Basil Boys Restaurant. For more information, please call (517) 424-6555.
---
Watch the highlights of the 2017 ididit Car Show & Open House, held on September 16, 2017, in our latest YouTube video.
---
ididit is happy to announce some exciting additions to the 2017 ididit Car Show & Open House, held on September 16th. ididit will host special guest's from Lowrider Magazine—Rudy Rivas, GM, and Joe Ray, editor. Rudy & Joe will be here to check out our fun event and sit with us for a informal meet-and-greet at 10 a.m. inside the vendor tent. Set for 9 a.m.-3 p.m. Saturday, Sept. 16, rain or shine at ididit's facility in Tecumseh, Michigan, the open house tradition dates back to 1991 as a way to thank customers for their support and as one last hurrah before owners tuck their hot rods away for the winter. Additionally, the vendor tent will be back and will feature representatives from companies including Ann Arbor Welding Supply, Classic Instruments, Cruis'news, Shadow Rods, American Autowire, Old Dog Street Rods and EATON Detroit Spring selling parts and answering questions. Also new this year, we opened up the vehicle range to 1985 and older and are able to compete for custom ididit trophies in eight new classes. Owners can also take advantage of free NSRA safety inspections happening all day. Other highlights include breakfast by the Knights of Columbus, a live DJ, goodie bags & door prizes, facility tours, custom golf cart raffle, food trucks, canned food drive and more.
---
New date, still great! The highly anticipated annual ididit Car Show & Open House will be here before we know it, September 16th! Featuring the best hot rods, street rods, sports cars and custom trucks from Michigan and the Great Lakes region. Now open to any vehicle 1985 & older. We are accepting Pre-Registration now! Head on over to the Car Show & Open House page for more information about this years show (we have lots of great new stuff in store) and download the registration form. We'll see you all on September 16th!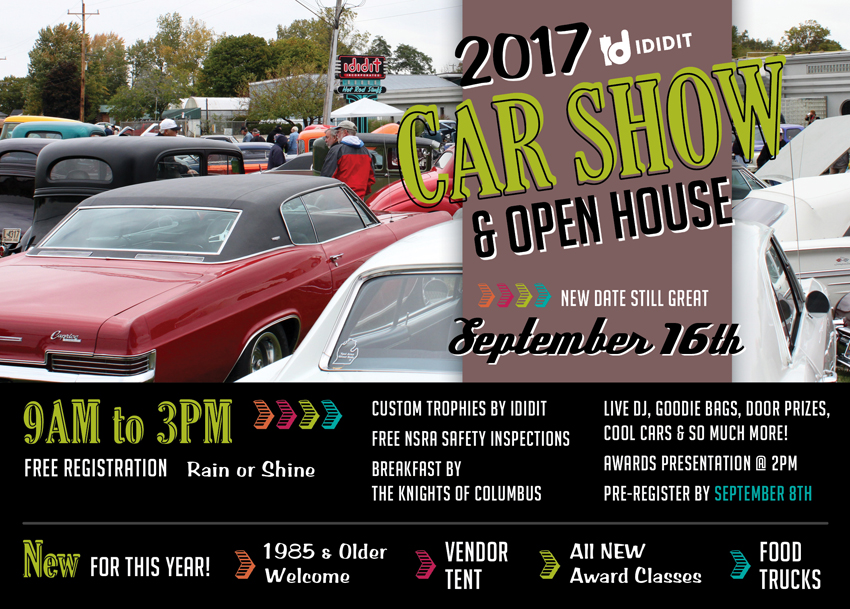 ---
It's Car Show season! Here is a list of upcoming shows ididit will be attending, where you can chat with our knowledgeable staff, while checking out our great products. Make sure you grab a free sticker or two while you're there!
Hope to see you on the road!

Super Summit - Norwalk, OH - June 9-10
Back To The 50's - St. Paul, MN - June 23-25
Goodguy's PPG Nationals - Columbus, OH - July 7-9
Syracuse Nationals - Syracuse, NY - July 14-16
NSRA Nationals - Louisville, KY - August 3-6
Hot August Nights - Reno, NV - August 8-13
Tri- Five Nationals - Bowling Green, KY - August 11-12
Goodguys West Coast Nationals - Pleasanton, CA - August 25-27
NSRA Nationals North - Kalamazoo, MI - September 8-10
Sand Sports Super Show - Costa Mesa, CA - September 15-17
ididit Car Show & Open House - Tecumseh, MI (ididit shop) - September 16
NMRA All-Ford World Finals - Bowling Green, KY - September 28- Oct 1
Run To The Sun - Lake Havasu, AZ - October 19-21
SEMA - Las Vegas, NV - October 31- November 3
---